What kind of place is Kuroshio?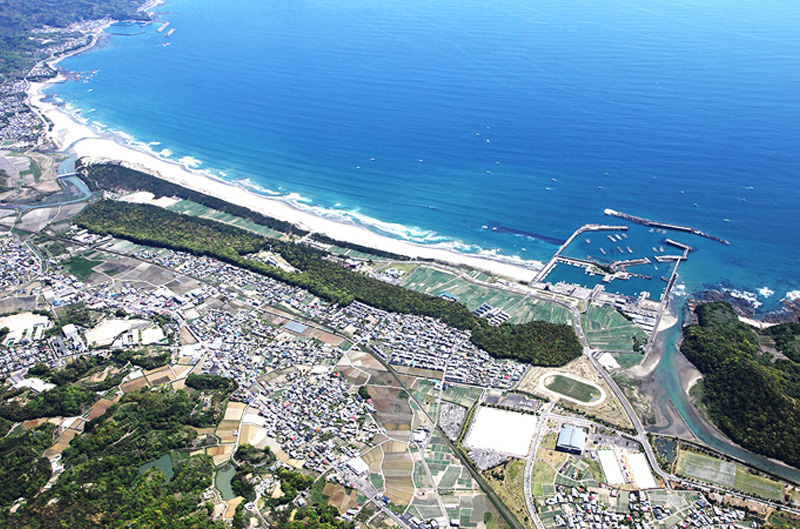 Located in the southwest of Kochi Prefecture, Kuroshio has a thriving industry for pole-and-line fishing of Tosa skipjack tuna, which uses traditional Japanese fishing methods tracing back to ancient times. In recent years, sun-dried salt has also become a popular specialty product.
Agriculture is also flourishing in Kuroshio, with cultivation of shimeji and shiitake mushrooms, flowers, and paddy rice. Kuroshio is a small town of only 11,000 people.
There is no art gallery in the town of Kuroshio. Instead, the expansive 4km stretch of beautiful beach serves as the backdrop for Kuroshiro's Seaside Gallery. The beautiful pine grove and whales that can be seen in the ocean are artworks, as are the children running barefoot on the beach looking for shells, the people surfing, and the footprints of birds. In addition, the seasonal events of the t-shirt art exhibition, the barefoot seaside marathon and the salt-breeze quilt exhibition are well worth the visit to Kuroshiro to discover a work of art.
Activities in Kuroshio
You can experience many cultural and historical activities in Kuroshio: making Kochi's traditional dish of straw-seared skipjack tuna, in which you clean the skipjack tuna and then straw-sear it; making Wakayama Kozo (paper mulberry) washi in a production area of paper mulberry, a raw material used for making washi, that is regarded as the highest quality in Japan; making local sushi, using ingredients such as wild vegetables from the forest; and making sun-dried salt, which is made from seawater using only the power of the sun and wind. As Kuroshio faces the Pacific Ocean, you can also enjoy marine activities such as sea kayaking, whale watching, surfing and fishing.
Sightseeing spots in Kuroshio
Irino Beach, which hosts the Seaside Gallery, is known as the "Lake Uyuni of Kochi," and the water mirror phenomenon often occurs. When this mirror-world appears during the t-shirt art exhibition, you can witness the magical scenery of the t-shirts reflecting over the water. Running along the Irino coastline is a beautiful landscape of hundreds of thousands of black pines at the center of a forest reserve, which were cultivated in the Chosokabe Motochika era.
In the Saga district, the Shioya Beach offers a different scenery from Irino, with a white, wonderful view and many shells washed up that you can enjoy collecting.
Food in Kuroshio
As Kuroshio's most famous export is Tosa skipjack tuna pole-and-line fishing, if you visit Kuroshi, you have to try the seared skipjack tuna. In Kuroshio, you can enjoy seared skipjack tuna with the local specialty of sun-dried salt. We recommend changing the taste with a dipping sauce as well.
Fish in Kuroshio is extremely fresh, so you can taste incredibly fresh sashimi and other seafood.
Kuroshio has a strong image of seafood, but there are also many local mountain products, such as delicious vegetables and edible wild plants.
Accommodation in Kuroshio
Kuroshio has many hotels with panoramic views of the ocean, as well as cottage rentals and guesthouses that are renovated old Japanese-style homes with a charming Japanese feel to them. You can have fun with your friends or relax with your family.
There are also campgrounds next to the beaches, so you can enjoy a range of activities such as surfing, swimming and fishing.
Why don't you take a break from your daily life, forget about time and relax in Kuroshio?